"Gone Fishing" program to inspire a new generation of outdoor enthusiasts
Gone Fishing, is a major new program to introduce people of all ages, especially urban youth and children overly-focused on their digital devices, to fishing as a gateway to discovering the outdoors. Bass Pro Shops national program encompasses a variety of significant initiatives designed to introduce audiences that haven't been exposed to outdoor recreation, and inspire experienced anglers to pledge their support and join the fishing movement this summer.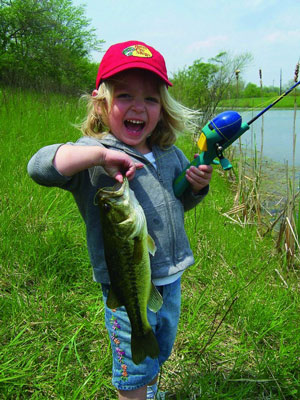 Courtesy of Bass Pro Shops
"Bass Pro Shops is committed to inspiring more young people to get to know and love the outdoors," said Stan Lippelman, vice president of marketing for Bass Pro Shops. "In fact, 100,000 people caught a fish at a Bass Pro Shops last year alone, many for the first time. We hope to expand this by offering additional free, easy opportunities to introduce kids and teens to fishing. Once they catch their first fish, we know they'll be hooked."
In addition to creating the next generation of conservationists, fishing also offers a variety of personal benefits.
"Fishing offers kids and kids-at-heart the opportunity to put down our devices and experience the outdoors together to bond with our families, connect with nature and get some exercise," Lippelman said.
"Gone Fishing" offers opportunities for people of all ages and skill levels to get involved.
Free in-store events feature large catch-and-release ponds and will provide kids and families with the opportunity to catch their first fish, learn basic techniques or fine-tune their fishing skills. The free events aim to make fishing accessible through an easy and fun way to get started with how-to seminars, take-home handbooks, photo opportunity with downloads, certificates** to commemorate that first catch, and in-store giveaways.  
The free in-store programs introduce families to fishing during the two-weekend event, June 13-14 and June 20-21 from noon – 5 p.m., held at participating Bass Pro Shops stores across the U.S. and Canada.
Trade in a video game for the "reel" deal Families can step away from their screens and commit to spending more time outdoors by trading a video game for their own fishing gear. Shoppers can bring in a game at participating Bass Pro Shops stores in the U.S. on June 13, 14, 20 and 21, and receive a coupon for $5 off a new rod and reel combo costing $19.99 or more (limit one coupon per person).
All video games will be donated to AMVETS, or American Veterans, as part of care packages in support of our men and women in uniform.
Experienced anglers are encouraged to join the movement by pledging to take a friend or family member fishing this summer. Beginning June 13 participants who pledge to share their love of fishing can enter online for a chance to win a fishing outing for 20 of their friends and a special guest celebrity.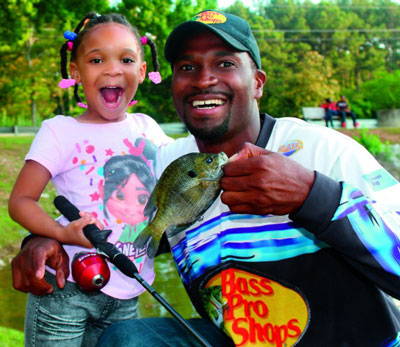 Take a #fishie (a selfie with your fish).
Courtesy of Bass Pro Shops
Capture a photo of your catch for a good cause. If you catch a fish, whether it's at a Bass Pro Shops catch-and-release ponds, or out in nature, take a #fishie (a selfie with your fish), share it on social media and challenge five of your friends to take a #fishie along with a donation to the Teach a Child to Fish program.
Teach a Child to Fish is dedicated to providing underprivileged youth and children the opportunity to experience the joys of fishing and nature through outdoor activities and educational programs.
Additionally, stores across the country are collecting and donating a combined 21,000 rods and reels to youth programs including the Boys and Girls Club and the Boy Scouts of America.
Bass Pro Shops® specialize in outdoor fun. Bass Pro Shops stores, many of which feature restaurants, offer hunting, fishing, camping and other outdoor gear while their catalogs and website serve shoppers throughout the world. The company's Tracker Marine Group®, manufactures and sells a variety of boats for fishing and cruising. Family fun is on tap at Bass Pro Shops resort Big Cedar Lodge®, voted by Travel + Leisure as one of the top 50 Best Hotels for Families in the U.S. For more information, visit www.BassPro.com and follow them on Facebook. To request a free catalog, call 1-800-BASS PRO.